Panos Mobilises Children to Participate in Governance Processes
Lusaka, 24 August 2017:
Panos Institute Southern Africa (PSAf) has mobilised children from the five Zambian districts of Kasama, Petauke, Mkushi, Kabwe and Kaoma to champion the child participation in governance processes. As part of the mobilisation, PSAf has this week brought together 10 children, 12 community media journalists and five teachers from the five districts for a consultative and planning meeting to build strategies to effectively increase children's participation in governance.
PSAf values child participation as an important factor in local governance, as it enables children to freely express themselves and actively influence decisions that have a bearing on them.
The consultative meeting is part of the "Advancing children's right to quality health, education and protection through effective governance processes in Zambia" project, which PSAf is implementing with support from Save the Children. The project's goal is to increase the participation of children in governance processes for the realization of children's right to health, education and protection in Zambia.
The consultative process will result in a children's statement that will be presented on 31st August at this year's Highway Africa Conference in Grahamstown, South Africa under the theme: Media, Accountability and Local Governance. The children's statement will call for action by decision makers and other stakeholders to promote children's participation in local governance.
Issued by: Lilian Kiefer  Executive Director, Panos Institute Southern Africa (PSAf) Email: general@panos.org.zm, Tel: +260978778148/9 
Zambia's Young People and the Road to 2030
12 August 2016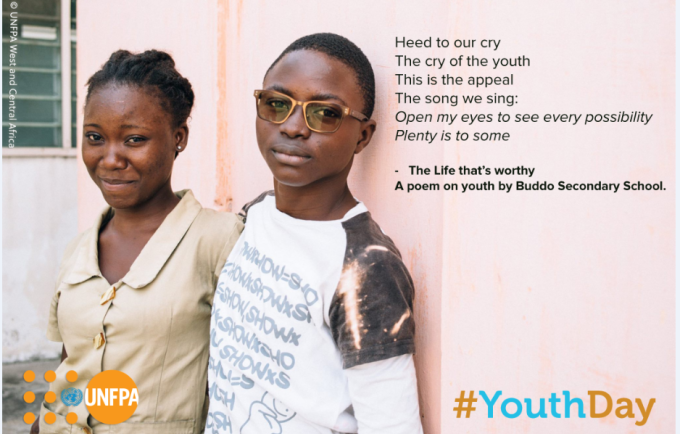 UNFPA, the United Nations Population Fund in Zambia joins the Government and people of Zambia and all partners in commemorating the 2016 International Youth Day.
In Zambia, today's record 4.8 million young people aged 15-35 [36.7% of Zambia's population] – the largest population of young people in its history – present an enormous opportunity to transform our future.  With targeted investments, Zambia's youth have the potential to be the innovators, creators, builders and leaders of sustainable development. Strategic collaborations in the country continue to identify, advocate for and monitor such investments to ensure every young person's potential is fulfilled.
As Zambia advances with the domestication of the far-reaching and complex Sustainable Development Goals, critical attention is required to address the multi-dimensional development challenges young people, including adolescent girls encounter that limit their access to quality health, education and decent employment opportunities, amongst others. By so doing, Zambia would be securing and utilizing the time limited window of opportunity in harnessing a "demographic dividend" in subsequent years. The Demographic Dividend is the potential economic gain that can occur when a county's educated, skilled and healthy working age population is larger than the population that is dependent (i.e. younger or elderly).
Sustained effort is also required to generate, analyze and use national development data disaggregated by geographic location, age, gender, and income levels among others, to fully understand the levels and types of targeted investments by all actors.  A review of current data indicates urgent investments are required to address the under listed development challenges faced by young people in Zambia:
High child marriage prevalence rates, where 31.4% of women currently aged 20-24 years and 45% of women aged 25-49 were married by age 18 years; thus making them vulnerable to a lifetime risk of high fertility (number of children they will have in their lifetime); higher risk of dying from a pregnancy related death; higher risk of limited education and higher risks of accessing economic opportunities.
Limited access to sexual and reproductive health information and services, which contributes to the current high rates of teenage pregnancy at 29%; high HIV prevalence rates where 8% of girls aged 15-19 are infected compared to 5% of boys; low contraceptive use among young people with only 28% of married adolescent girls using modern methods of contraception despite their need to space births as well as low condom use where only 40% of girls and 49% of boys aged 15-24 used a condom at last high risk sex.  Further evidence also shows the impact on school retention and completion, where 58% and 44% of girls drop out of school by 9th and 12th grades respectively mainly due to teenage pregnancy and child marriage.
Unacceptable high rates of sexual and physical violence, where almost 30% of girls aged 15-19 have experienced physical or sexual violence from a husband or partner, which violates the fundamental rights of freedom from violence, or any form of abuse or discrimination.
UNFPA recognizes the far reaching consequences of inaction in addressing the aforementioned. UNFPA underscores the need to ensure young people in Zambia are adequately empowered to drive inclusive economic and social development, which will be measured with increased GDP/per-capita incomes, within a prosperous country. UNFPA Zambia is committed to sustaining its partnerships with Government at all levels, as well as national and international partners to ensure the needed investments for comprehensive youth focused policy and programme development; as well as timely availability of resources to guide effective and efficient implementation of the programmes such as comprehensive sexuality education for in and out of school youth; building national capacity for sexual and reproductive health service delivery (including HIV prevention); taking bold initiatives to reach marginalized and disadvantaged adolescents – particularly girls at risk of child marriage and teenage pregnancy; as well as promoting youth leadership and participation.
As Zambia moves towards attaining its Vision 2030 alongside the Sustainable Development Goals, such concerted efforts will not only enable the fulfillment of young peoples' future potentials, but will also enable young people to harnesses this historic opportunity to contribute to the global shared vision to eradicate poverty and achieve sustainable development.
These critical issues are also underscored in the message of the UNFPA Executive Director, Dr. Babatunde Osotimehin:
UNFPA, the United Nations Population Fund, celebrates International Youth Day by reaffirming and recognizing the central role of young people in promoting the well-being of their families, communities and nations. This year's theme, "The Road to 2030: Eradicating Poverty and Achieving Sustainable Production and Consumption," couldn't be more relevant and timely.
More than 500 million youth worldwide live in poverty, and often cannot afford their basic needs. They lack access to vital resources, and are disproportionately represented amongst the world's poor. They have the most to gain if we succeed in eradicating poverty, and will have the most to lose if we fail. The good news is that young people are not the problem, as is often thought, but, in fact, they are the solution.
Last year, the United Nations adopted the 2030 Agenda for Sustainable Development, which requires us to balance the needs of present and future generations, create economic growth without destroying natural resources and reduce consumption, while enforcing well-being and dignity.
To achieve these goals, a fundamental shift is needed. We must make decisions on the allocation of resources while keeping the interests of future generations in mind. We must make investments in social sectors that improve the resilience of individuals and communities. And we must place the fulfilment of human rights at the centre of development. 
Globally, large youth populations represent a historic opportunity to introduce progress and adopt innovative solutions to ignite this change. Essential to this is the realization of young people's rights to participate in the political, economic and social life of their communities and countries, and to freely make informed choices regarding their bodies, sexuality and reproduction without discrimination, violence or coercion.
To empower young people means giving them the tools to become even more influential, productive actors in their societies. In order to achieve this, countries need to end all forms of discrimination faced by young people, particularly adolescent girls, such as forced and child marriage and sexual violence, which can result in unintended pregnancies, unsafe abortions and HIV infections, and risk derailing their future.
Central to these efforts must be the promotion of access to education, health services, including sexual and reproductive health and family planning. These combined interventions are critical in order to break the intergenerational cycle of poverty, strengthen the resilience of populations in the face of all challenges and seize the opportunities of the new economy.
Young people are already driving innovations in science and technology, making conscious choices that are drastically influencing patterns of consumption and production, and mobilizing to make companies, organizations and governments more socially and environmentally responsible. Where they can get information, technology, financing, mentorship, and platforms for collaboration, young innovators are able to turn their ideas into transformative solutions.
UNFPA is proud to partner with young people in more than 150 countries and territories around the world, including Zambia to promote their participation and leadership, enabling them to overcome barriers, spearhead innovations and unleash their full potential.
UNFPA calls on governments, development partners and other influencers to enact policies that promote young people's development and human rights, and to measure progress across the Sustainable Development Goals that relate to adolescents and youth. Young people must be engaged as partners in achieving these goals, as they are the generation that will inherit our planet.
An adolescent girl who is 10 years old today will be an adult of 24 in 2030, the target year for achieving the Sustainable Development Goals. We must ensure that her path through adolescence and youth leads to a brighter future for herself, her community and the world – that is paved with rights upheld, opportunities realized and promises fulfilled.